The thing about opportunity is you don't always know what comes around the next corner. It's like riding in strange places. Where's the top of the hill? How bad is the descent? Will I like this ride? Will I be any good at it?
Questions.
Another thing about opportunity is how it prods you out of your comfort zone–a different schedule, new things poofing into your head, and different priorities.
Mix all this in with middle age, trying to stay fast on the bike and real doctoring…and…well, maybe that explains why I am typing—not sleeping–at 0500.
Two new things:
I was delighted to get an invite to contribute a voice whisper for our local newspaper, the Louisville Courier Journal.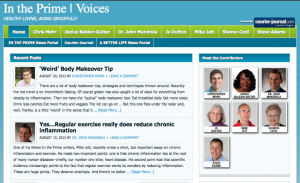 My tiny role will be to provide commentary in the newly formed health and fitness digital section called, In the Prime. Along with six other local health writers, I will add Mandrola-isms on exercise, fitness and cardiovascular health. Though life is hectic at this moment, I jumped at the chance to reach a local audience. Here's a link to one of my first posts on Diet or Exercise? The Wrong Question. 
—
In the don't-be-afraid-to-ask category, I am excited about this Thursday's adventure to Munich Germany. I will be heading to Munich to cover the European Society of Cardiology Congress as a contributor to theHeart.org. Why would the theHeart.org agree to send me to the world's largest gathering of heart doctors? A weak moment, perhaps? A mistake? They meant to send someone else? Oh, I know; it must be my typo-free posts.
Seriously, my role is to cover heart rhythm topics at ESC 2012. Look for frequent updates over at Trials and Fibrillations. As ESC is a general cardiology meeting. I may sneak over to the many presentations on the cardiovascular issues surrounding sport and fitness. For a behind the scenes look at our Munich trip and other meeting coverage, you can also like theHeart.org on Facebook. 
A warning for twitters followers: I'll be tweeting frequently on cardiology topics in the coming weeks. The hashtag is #esc2012.
Where did I put my passport?
JMM