Naysayers you all.
Calling us blawgers…or worse.
Nothing productive will come of all that time you spend in grandiose self-promotion. Wait, isn't all self-promotion inherently grandiose?
But now, after 622 posts, 2052 comments and 1818 tweets, I finally have something to show for it.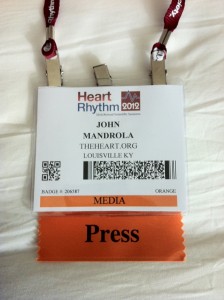 Did you know the press get free coffee and food? And it's pretty good.
I just so love new adventures. The thing is, after I signed up and finished my first my bike race, I called myself a bike racer. That's quite debatable.
Don't worry, I promise not to call myself a journalist or writer. I'll just stay a blawger.
JMM
P.S. This would be a great time to thank the many real writers and journalists that have helped (and help) me along the way. You know who you are. Thanks so much.