I recently had the pleasure of doing a podcast with Rob Orman, an ER doctor and fellow cyclocross racer from Oregon. As Dr. Orman says, we discuss the broad intersection of sports and Cardiology. Of course they intersect; there shall be no sport without a good heart.
In the 35 minute conversation, we discussed the following topics.
Are marathons bad for you?
Sudden death in sports
How should you counsel patients before they start a fitness program?
What are the important things to watch for on a sports physical?
Early repolarization: harbinger of death or no big deal
Managing atrial fibrillation in the athlete
Though our chat was geared to medical peeps, there may be something there that interests you.
And I was delighted to see this… on iTunes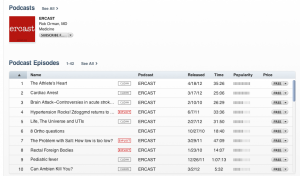 Here is the link: The Athlete's Heart at ERCast.org.
Enjoy.
JMM
P.S. I am especially grateful to Dr. Orman–for he labeled me an electrophysiologist, cyclist and drum roll… a philosopher? That's a good one. Huge Grin.