Wow. That was something.
My last post described riding all day in the local canyons of Orange County California. If only the trip had stayed that docile.
The mental and physical stress only increased, so much so that this is the first moment I have had enough energy to even open the browser. An old guys golf trip, this is not.
There were many lessons learned on that fateful Tuesday and Wednesday in the Santa Ana Mountain range.
Let's start with this one:
Past performance does not always predict future performance. A to-remain-nameless teammate has always guided us well through the mountains. It turns out he's human, like all of us.
And another:
Orange County map-makers, perhaps due to insufficient tax revenues, don't designate whether a trail is a hiking or biking trail. That's an important distinction, as many of you know, it's possible to hike on a bike trail, but the reverse is surely not so.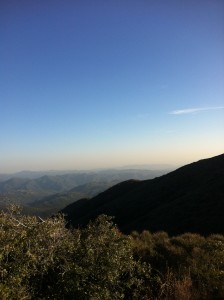 And so we were there at about 4000 feet at the trail head of "Los Pinos." Only 14 km separated us from our van, our dinner, our refreshments and for a time, I thought, our well-being. The problems weren't just that bikes do poorly on hiking trails, but also that the sun seems to fall faster to the horizon in the mountains. Moreover, some men harbor more fear than others about darkness, and thus they move with differing velocities as darkness approaches. Did you know the blue dot on iPhones only works when one has cellular service?
More on trying to ride hiking trails: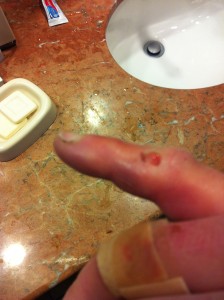 I don't care what some online reviews say, Los Pinos is not a mountain bike trail. After about the fourth trip into the steel-brush textured shrubs and Orange County rocks, the doctors began walking their bikes down the rutted trail. Then we walked, no hiked, our bikes up the rocky ascents of Los Pinos, over endless ridges, past infinite trees, up and down and over again. Groundhog day comes to mind.
Another lesson in biology:
The muscles one uses to hike down rocky, rutted SoCal trails are not the same ones used in biking. Hardly, in fact. Plane trips across the USA don't soothe these aching muscles much either.
Walking approximately 4K out of 14K trail in the dark, out of water with only those beautiful jellybeans left me shaken mentally, physically and emotionally for the next and final day's adventure.
We really did try to ride the "Holy Jim"-Trabuco loop with the same zest as past years. It's just wasn't the same. To mountain bike well, one has to be loose, smartly aggressive and a little daring. This was not me on the last day of riding. Pain, fear and near rhabdomyolysis has a way of inhibiting performance, and poor performance on a mountain bike takes a lot of the fun out of riding.
So this week's adventures taught many a life lesson. You read the stories and watch the shows that describe how seemingly smart people do dumb things in the outdoors. You don't think it will be you. "I'd be smarter…I wouldn't make that mistake…I would remain a perfectly measured, controlled and balanced soul."

Yep. You probably would. And maybe I will next time.
For now, I am overjoyed to be back at the trusty MacBook, drinking coffee, surrounded by the Spring flowers of good-old Kentucky–a state with far-friendlier vegetation, fewer rocks, better cell service and certainly, better trail maps.
Thank goodness.
JMM
Don't worry, I won't make ride and vacation reports the norm. This is a serious blog, don't you know.