On Fridays, especially stormy ones (when I can't ride), I like to reflect on the work of doctoring. Chief among such wide-angle views is how important a role we doctors actually play in creating good health for our patients? And the trouble that we may cause.
I'm struggling with this force pulling me toward minimalism. (I'm a heart doctor.)
Are we creating more disease than need be created?
Why do the risks of diagnosis and intervention look so much larger to me now?
Why do I so often see this: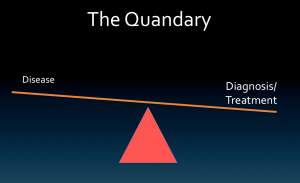 Take the example of doing nuclear stress tests for chest pain: it used to be these were ordered at the drop of a hat. We gotta know. Now, I can't help see the negative side of the test: a big slug of radiation that may lead to a heart cath and diagnosis of a partial blockage—that would best be treated with diet, exercise and blood pressure control, not a stent. One way to look at this newly diagnosed patient is that we intervened early and possibly prevented a heart attack. Another is that we have created one more sick person and maybe intervened with a therapy that might not have been better than simple lifestyle changes. (Note: I'm not against doing nuclear stress tests or placing stents; these are potential life savers when used appropriately.)
Another example is doing anything to an elderly person. I used to see the potential to help the elderly live longer or better. I still see this, but now I also see the potential of mucking things up for them. And elderly people get mucked up a lot easier than younger ones. I saw the elders' maladies; now I see their wellness. I grade them on a curve.
Finally, there is the thorny issue of a doctor's role in making people without an acute ailment well. Few essays have spoken to me as loudly as Dr. Gilbert Welch's recent NYTimes piece, If You Feel O.K., Maybe You Are O.K. His last paragraph hollered at me: (emphasis mine)
…For years now, people have been encouraged to look to medical care as the way to make them healthy. But that's your job — you can't contract that out. Doctors might be able to help, but so might an author of a good cookbook, a personal trainer, a cleric or a good friend. We would all be better off if the medical system got a little closer to its original mission of helping sick patients, and let the healthy be.
I love this doctoring thing. Using hard-won skills, smartly applied modern technology, teamwork and compassion to make sick people better feels really damn good. But with such fine sensations comes the heartbreak of failure.
And one such failure that haunts me is…
Making a well person sick.
That my friends should be a never event!
JMM