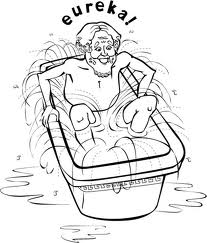 One of the best things about writing a blog is when life provides Eureka moments. I read an essay this weekend that literally jolted the blogger in me.
If you are an athlete seeking a pinnacle; (That about covers all of us.)
Or a doctor striving to be the best that you can be–for humanity;
Or a parent wanting to provide the best for your children;
Or a learner wishing you could some day be smart enough to work in a think tank; (Ever wonder what a think tank looks like?)
Or perchance, just a regular person reaching for long-term wellness.
If you are any of these, I urge you to read Jason Gay's (ace WSJ sports-writer) recent essay, Less is more of a good thing.
The metaphor he so skilfully used was over-eating, and over-feeding sports to its fans. The greater message, however, was clear.
Mr Gay writes:
The thing is, we don't want so much. We need balance and portion control. We don't have to have the biggest car, or house, or TV, or Caesar salad. And we don't need so much from sports, either.
Though he is addressing pro and college sports authorities, his final sentence is prescient to all of us over-achievers:
Keep us hungry for more.
Alas!
Balance…as a means for health and success surely has really good legs.
JMM