When I learn something that might be useful to you, I like to write about it.
To date, the topics that I feel most comfortable writing about relate to doctoring, heart disease, healthy living and cycling.
But an area that I am growing more and more intrigued with is health news reporting. As a believer in the power of an educated patient, it is extremely important that patients get the right information about medical matters.
Patients today are besieged with health information. Unfortunately, much of what gets broadcasted (or churned) in the mainstream media is inadequately vetted, sensationalized, or wrong. And it is fair to conclude that inaccurate medical information might lead patients to undergo useless and potentially harmful treatments. 
So today, I want to tell you about a valuable website for judging the quality of medical news reports; one that I have followed for some time.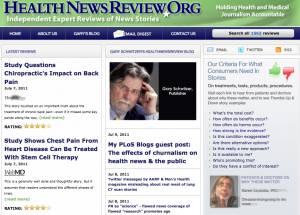 HealthNewsReview.org is dedicated to improving the accuracy of medical reporting and assisting consumers (patients) evaluate the evidence for and against new ideas in health care. Gary Schwitzer, a long-time health-care journalist and former professor of Journalism, leads a team of more than two-dozen independent medical experts in grading health news reports. Each day, three reviewers analyze a major medical story from mainstream media using ten criteria. These criteria include whether the story:
quantified benefit;
quantified harms;
gave the strength of the evidence;
told the costs of the intervention;
compared the new idea with existing alternatives;
used independent sources and addressed potential conflicts of interest;
avoided disease-mongering;
established the true novelty of the approach;
established the availability of the approach;
was based solely or largely on a news release.
Based on the above criteria, medical news reports earn a 0-5 star rating. They are tough on shoddy reports and celebrate good ones.
These folks have taught me a lot about how to judge medical reporting.
Now, I know what you might be thinking: Why would a big-picture guy like me tout the idea of applying ten criteria to every medical news report?
It's because interpreting science, and the reporting of science requires critical thinking; the details are important in deciding whether a report tells the story accurately. Such critical thinking reminds me of one of my favorite lessons learned from residency training: from an old professor of Cardiology at Indiana–"No data is better than bad data."
I have bookmarked HealthNewsReview,org and added them to my Reader.
JMM
P.S. Please don't hold my posts to these criteria. I am just a blogger that barely passed language arts in high school.