I am in Boston for the annual Boston AF symposium. It's a serious meeting– on the other side of the spectrum from old-school boondoggles like Echo-Hawaii or Nuclear-Vail. The sessions start at 7 and go into the night.
I am sneaking a few observations in during a coffee break.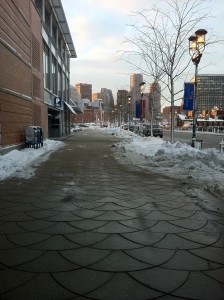 For starters, if snow removal is the metric, Boston gets high marks. Does anybody think a southern city would look like this twenty-four hours after a blizzard?
As has always been the case with this meeting, the sessions are fantastic. Many of the AF topics are highly focused, making the details of which beyond the scope of a coffee break blog update. That said, two observations on the tone of the meeting are worthy of comment—especially since they are related to social media, and regular media.
The role of regular media: Without any doubt, industry involvement is either less, or just less overt. For instance, there used to be competing industry-sponsored evening sessions. Not any more. And I think that their absence is a negative. Sure, these were sponsored talks by paid opinion leaders, but we all knew about their inherent bias, and those of us who weren't moved by free pens were not moved by these talks either. It was nice to sit at a large dinner table with other clinicians and talk about cases in a less formal setting. This year, like other non-opinion leaders, the first night I ate dinner by myself with my iPhone.
The role of social media:The second way this meeting has changed is a sign of the times. Perhaps, social media has some negatives. Like in real life, attendees are more engaged with their mobile devices than other humans. In the lecture hall, people are texting, tweeting and computing. In the gathering hall, there are collisions of distracted walkers. At the round tables at lunch, folks eat like I did last night, with their mobile friend rather than a human friend.
Things change.
Whether it is for the better or not remains to be seen.
JMM