Hi All,
Here is a short update of the past week.
The first thing to say is the Atrial Fibrillation Care: Put the Catheter (and Rx Pad) Down post has gotten a lot of attention. It stayed on the most popular list all week. It has over a 130 comments, and I have received many emails on it. It is a big moment in AF care.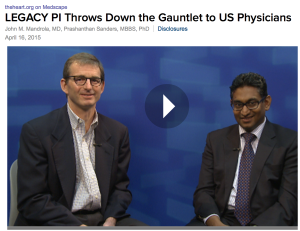 I would also point you to an interview I did with Dr. Prash Sanders from Adelaide. Prash is the senior researcher on the LEGACY trial. His team's work has been most responsible for the change in thinking of AF care. The title of the post: LEGACY PI Throws Down the Gauntlet to US Physicians
Is AF care fair?
One aspect of AF care that I discussed recently with one of my partners was the notion of social justice. An AF ablation costs $100,000; a redo ablation costs $100,000. That is a lot of money. And now we know that in most cases, lifestyle changes either eliminate the need for procedures or render them more likely to succeed.
So…how fair is to spend $200,000-plus to treat a patient with AF? Think of what could be accomplished if that much money was used to care for the needy in our community? Is it right or just to allocate that many resources to a disease that is most often due to life's excesses?
Population Health?
This leads me to population health–a hot topic in the hospital these days. The thinking goes that hospitals will be charged with delivering health to the population it serves. That is funny. As if health comes from hospitals. My mantra on the matter of health in populations: #BuildParksNotCathLabs.
Monitoring of NOAC drugs:
My column last week delved into the issue of monitoring patients who take the new anticoagulant drugs dabigatran, rivaroxaban and apixaban. Conventional wisdom–powered by marketing–has it that these drugs are more convenient than warfarin because less monitoring is required. A new study suggests otherwise. Researchers from Stanford looked at 67 VA medical centers and found great variation in patient's adherence to the drug (dabigatran). They also discovered a yet unappreciated benefit from pharmacists.
The title and the link of the post is here: Should NOACs Be Monitored Like Warfarin . . . and by Pharmacists?
Two new podcasts:
In This Week in Cardiology for April 17th, I discussed NOAC monitoring, news from the FDA, including a warning on two new diabetes drugs, the future of cardiac devices and physicians' view of electronic health records.
In This Week in Cardiology for April 10th, I discussed cooling after cardiac arrest, sports-related cardiac arrest, young adults and statins (ouch), antidotes for Factor Xa anticoagulant drugs and Staci's letter to cardiologists on palliative care.
Great read of the week:
The best medical writing of the week came from my colleague and fellow writer Dr. Melissa Walton-Shirley. Trust me. Read her stirring essay A Death Well Lived. 
JMM
P.S. I rode 80 miles Saturday. It felt great.