Over the weekend, I watched a speech by Dr. Mike Evans about using social media to educate patients and caregivers. Dr Evans is an academic family medicine doctor who also runs a media lab. He makes those famous whiteboard presentations, such as 23 and 1/2 hours, which now has more than 4-million views.
His talk got me thinking about health education and what I want to do here on this blog. One of Dr. Evan's suggestions is to use your professional page on Facebook. Here is the link to my DrJohnM FB page. I use that page to post my blogs and Tweets–and not much else. I underuse it.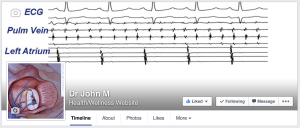 Here is an experiment: I am going to use my FB page to post short messages about diseases I treat.
I'll start with atrial fibrillation and AF ablation. This way, I can keep things short, not encumber those of you who have signed up for a mailer (thanks) with specifics you may not be interested in, and also perhaps accumulate nice lists for summary posts here.
I'll start with a topic I am asked about often: What to expect after AF ablation. 
I'll try to post daily, but don't hold me to that.
I hope to see you over on Facebook. My first post on AF ablation is up. I started with 2 things to expect after AF ablation. There are many more to list.
Here is the link again: Dr John M on Facebook.
JMM
P.S. I'm also thinking about improving my video skills. See, middle-aged masters bike racers can learn knew things.