I'm going to be proud for a moment.
Yesterday, the journal JAMA-Internal Medicine published an invited commentary that I co-wrote with Dr. Dan Matlock (@Dan_Matlock) from the University of Colorado. The title of the piece is The Antidote for Unprepared Patients — A Caring Clinician. It's available for free.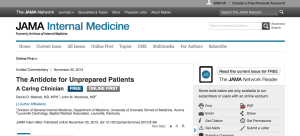 Invited editorials in medical journals are often used to emphasize or clarify impactful scientific articles. The study that Dan and I commented on was a retrospective review of the Features and Outcomes of Patients Who Underwent Cardiac Device Deactivation. (Also available for free.) The Mayo Clinic team of researchers found that patients with cardiac devices were unprepared for end of life. Deactivation decisions often fell to surrogates, occurred in close proximity to death and were rarely spelled out in advance directives. These were striking findings considering that Mayo Clinic probably represents the best case scenario for patient preparedness.
Two forces in population health make these findings relevant. One is that the number of patients with cardiac devices is increasing. The second is that the population of patients with these devices is growing older and more burdened with chronic diseases.
There are many well documented complications with cardiac devices, but the one that I worry most about, particularly an ICD, is the creation of a 'bad' death. I refer to this as changing the mode of death from something sudden, painless and autonomous to something else. To explain further on this issue, few authors more clearly and poignantly describe the importance of autonomy and respect at end of life than Katy Butler–who also wrote an invited commentary on the Mayo study.
The thesis that Dan and I propose is that the antidote for preventing unprepared patients is to care enough to recognize death for what it is (normal), and to discuss end of life decisions well in advance. We don't think electrophysiologists should delegate these decisions to other docs. We believe the solution to unprepared patients is simple and obvious. Caring is what makes the practice of Medicine so special. For doctors, caring is normal. It's just that when cardiac devices are involved, we have to care about seeing patients through both life and death.
I'll close with some words of thanks. First, I want to thank Dan Matlock for asking me to co-write with him. Staci and I met Dan in Denver this year at the Heart Rhythm Society Sessions. In preparing for the ICD talk I was giving there, I had run across Dan's work in the academic literature. He is a prolific researcher. I reached out to him for help and he responded generously and graciously. Dan's work in Denver centers on improving decision quality. This, I believe, is one of the best ways through our healthcare morass.
I am also grateful that Dr. Rita Redberg, the editor of JAMA-IM, allowed a non-academic physician space in a medical journal. That was nice. JAMA-IM has become one my favorite journals because of its courageous Less is More campaign.
Finally, I have to thank my wife Staci. She reviewed and influenced the content of the piece. Her work in hospice and palliative care teaches me so much. I can't help but wonder what would be if only more specialists had access to this area of medicine.
JMM