It's crazy out there in blood thinner land.
The novel blood thinning drug for patients with atrial fibrillation, Dabigatran (Pradaxa) cannot get a break.
It's all over the TV: Pradaxa = Bad Drug.
Look at this image: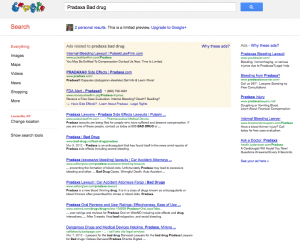 Today, on the prestigious heart news site, theHeart.org, an insignificant 113-patient study presented as a poster at a small symposium–by a researcher with ties to anti-coagulation clinics–gets attention because a few patients on dabigatran developed well-known complications. Though the author makes important points, namely, that blood-thinners should be used cautiously and patients should be well-informed about the risks and benefits, the study added nothing to what is already known about dabigatran.
Gosh. I can't believe I feel a twinge of empathy for a big pharma company.
Here's a news flash:
Dabigatran and rivaroxaban are blood thinners. They lower the risk of stroke, but increase the risk of bleeding. It's the same for warfarin. When these two agents were compared to warfarin in huge randomized controlled clinical trials, they both looked favorable.
For my entire career, I have heard the downsides of warfarin. Now, we have two drugs that prevent more strokes than warfarin, don't require blood checks, have no dietary interactions, minimal drug-drug interactions and are not used to poison rats. Do they worsen bleeding when one falls? Yes. So does warfarin.
Folks, of course it is better to not have a disease that increases the risk of stroke. That's what I have been saying since I started this blog. Prevention is better. Go to bed on time, exercise every day that you eat, eat less, drink fewer irritants, don't sweat getting a B+ and smile at your neighbor. I know; these are hard therapies with which to comply adhere.
But blood thinners are not bad medicines. They are medicines. They have risks and they have benefits. And the alternative: a patient can have the disease and its inherent risks.
JMM