I would like to introduce you to a new medical website.
It's called MDNews.com.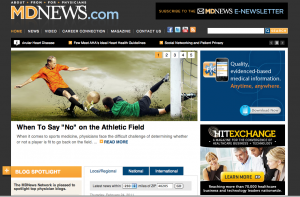 It's a site about, from, and for doctors. But that doesn't mean you have to be a doctor to enjoy and learn from it.
MDNews looks pleasing to the eye, is easy to navigate, and filled with useful medical and health news.
It makes me nervous that they have "spotlighted" me as a top physician blogger. More daunting yet, they listed me in a column with two other certified top medical writers, Dr Toni Brayer, of EverythingHealth and Dr Rich Fogoros, of The Covert Rationing Blog.
Having my words lined up with real writers on a beautiful new website for doctors falls squarely in the category of…be careful what you wish for.
It reminds me of a bike racing analogy.
As a bike racer, you always hope to make the breakaway. That's where the best riders play. The problem is however, when you do make the break, you quickly discover that the good riders are really good. You ask yourself, "I wanted this?" The anonymity of the pack was far more comfortable.
I would like to heartily thank MDNews for featuring my blog on their new site.
Good luck.
JMM