To celebrate women's health, our office was awash in red today.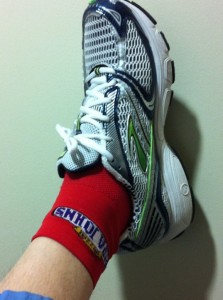 It's true, despite the vigor of the pink-ribbon campaign, heart disease remains the number one cause of death for women.  That stinks, because like in men, death from heart disease is so preventable.
Notwithstanding my free socks, in promoting heart health, I am redder than most.
But…
I've always felt conflicted about the whole February GoRed for women campaign. It's nice and all, the dresses sure look snazzy, and the campaign does transiently raise awareness.  All positives for sure.
But the 1970's notion that women are magically protected from heart problems based on their sex seems a bit outdated, and perhaps even contrived by those who benefit from such heightened awareness.  Are Macy's and Merck just that benevolent?
Come on, how many women out there still believe their feminine-ness protects them from heart disease? How many don't know that women can have vague symptoms of heart attack?
To me, the message about preventing heart disease is gender neutral.  Sorry.  Both women and men benefit from eating well, not smoking, exercising daily and paying attention to basic and well-known medical matters like blood pressure and cholesterol levels.
Maybe I feel this way because women have kicked my butt on the bike, in the pool and in the classroom.  I don't see them as meek, or dumb.  In fact, it's more the opposite.  My grandmother outworked my grandfather, my mother outworked my Dad, and my wife surely outworks and out-thinks me.  Just ask her.
If I was a woman, the GoRed campaign might feel patronizing.
JMM
(Maybe these views reflect why I barely passed that Ob-Gyn rotation.)