Fake atrial fibrillation (AF) is a growing problem. This is when the computer-reading on an ECG calls the rhythm AF, but it is not AF.
When the doctor does not recognize the faulty read, the patient is misdiagnosed.
Here are three pictures from the last month. (I have a stack of these.) Notice the computer-read at the top.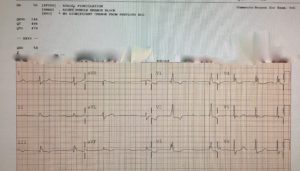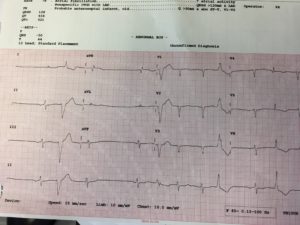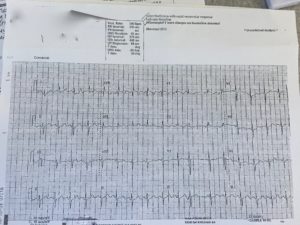 The weird thing about misdiagnosed AF or fake AF is that it's getting worse as our technology gets better. I think I know why.
In the really old days, say twenty-five years ago, ECG tracings did not come with computer-reads. An ECG included only the raw data, the electrical signals from the heart. This meant doctors had to look at the actual tracing and interpret it.
Skilled ECG readers then passed this knowledge along to students and nurses and technologists. The result was that most caregivers knew how to recognize AF and other important patterns, such as heart attacks. The diffusion of ECG skills was like herd immunity, only it was herd knowledge.
That has changed for the worse.
Computer readings of the ECG have gradually eroded knowledge of the herd. When computer-reads were first added to ECGs, doctors knew to look away from the computer's call and see the actual signals.
Over the years, the eyes and brains of doctors have been drawn to the computer-read. It should be the opposite. The computer is pretty good at reading ECGs, but misreads are common.
My partners and I regularly see patients who have been referred for AF, or tested for AF, or worse, treated for AF, when they did not have AF. The computer misread the ECG and the doctor did not recognize the mistake.
You should know about this problem for three reasons.
The first reason is specific to AF care  … The first step in AF care is to confirm the diagnosis. Lots of things can cause the computer to misread an ECG. A poor quality tracing can fool the computer. So can premature beats. Ask your doctor to be sure you have real AF.
The second reason fake AF is important is what it says about our dependence on technology. Effective use of health technology depends on knowing its limits. Artificial intelligence may some day be able to read ECGs better than humans; it isn't now. An ECG is like a face–there's so much to see when you look at it.
The third reason to know about over-reliance on faulty computer ECG-reading is that it's a patient-safety issue–one that gets little media attention.
For instance, if a computer ECG-reading does not see your heart attack pattern, it's possible your doctor may miss it too. This occurs too often. I think it would occur less often without computer reads. (That is only a theory though. If I was an outcomes researcher, this would be a great project.)
Another example: I have seen patients suffer severe bleeding while taking an anticoagulant drug because they had AF–but it was not AF. It was a misread ECG.
How about this one: A patient gets diagnosed with fake AF, takes serious medicines for two years, worries about his health the whole time, and comes to find out, it was not AF at all.
Why patient-safety leaders tolerate this problem remains a mystery to me.
JMM
P.S. Dr. Bryan Vartabedian, a pediatric gastroenterologist and healthcare social media leader, raised some good questions and thoughts on this matter. His post is titled EKGs and Artificial Unintelligence.
Doctor V's last point about what machines and what doctors will be doing in the future is both interesting and reassuring. Reassuring because almost anyone can implant a pacemaker or do an ablation; the hard part of medicine is to align the right treatment with the goals of the person. That's going to be a tough task for a machine.